ART DIRECTION / DESIGN & CONCEPT / BRAND IDENTITY/ DIGITAL COMMUNICATION
STRATEGY
The Guggenheim coat is my final project of the third semester in

design and textile technologies

at the faculty of digital media & creative industries in amsterdam (Sept 22 - Jan 23). Under the theme "Atelier" we explored shape around the human body and how to create form through techniques in pattern making, construction and material manipulation.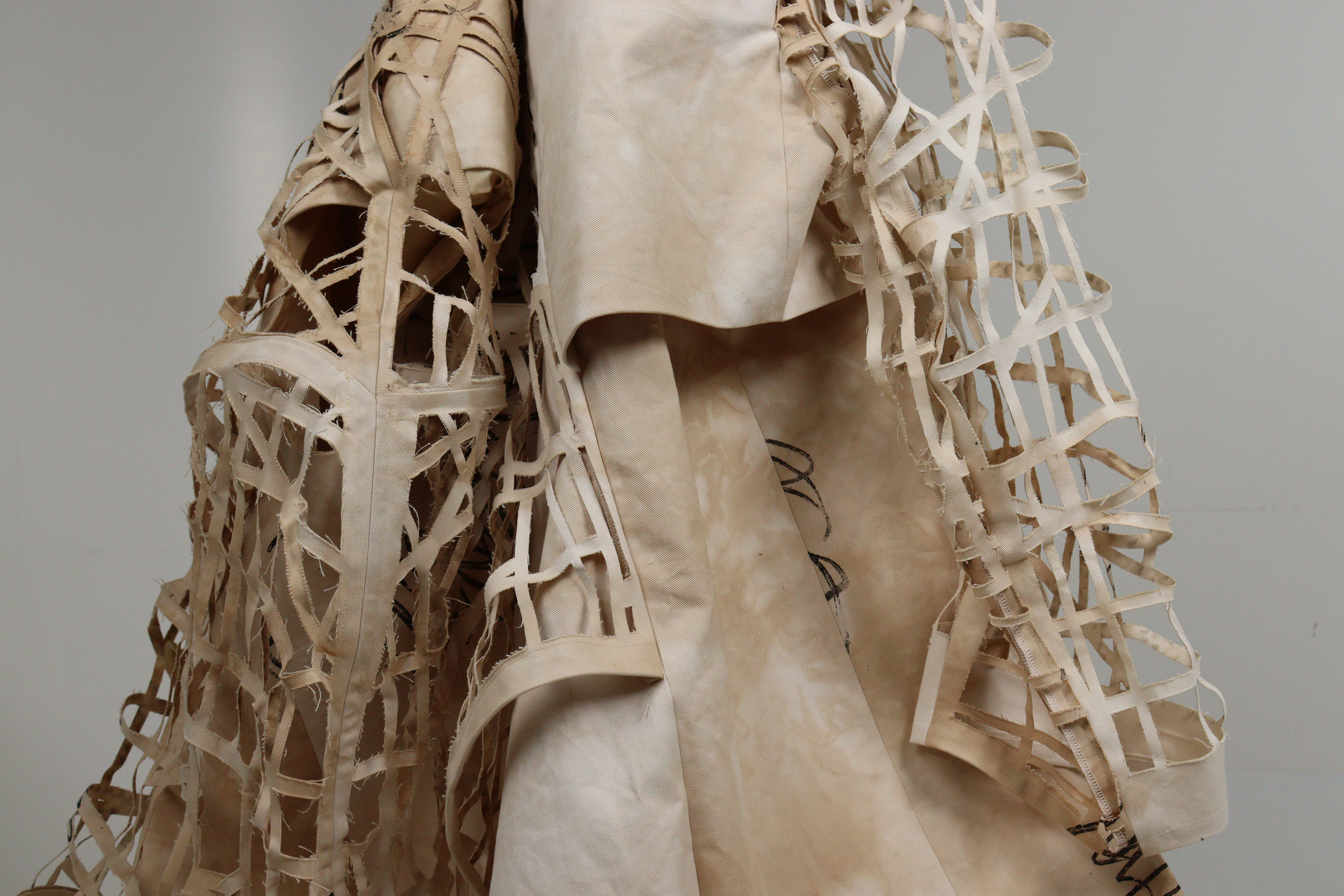 Inspired by the organic architecture of Frank Lloyd Wright and his theory of the harmony of form and fuction, I developed the idea for my coat  referencing the design, print and concept to my recent visit to the Guggenheim in New York. I started experimenting with manipulating the garments basic construction focusing on the shoudler's silhouette. The final product is a layered coat design with an oversized shoulder cut, self-made block prints and lasercuts on sustainable coffee-dyed cotton twill and silk. Both print and layout of the lasercut are inspired by the museum's architecture - referencing the spiral floor plan and rasterised glass ceiling. 
In this concept design, I firstly applied my idea of fashion as an architectual construction. In the final photoshoot, I visually experimented with garments as modifiable statics or objects that surround the human body and its movements just as a building, room or urban space. I further portrayed how these forms act without a wearer/ body. 
ACCOMPLISHING MY DESING CONCEPT, I DESIGNED A LOGO "JOUG." AND DEVELOPED A DIGITAL COMMUNICATION STRATEGY TRANSLATING MY VISION OF INTERCONNECTEDNESS BETWEEN ARCHITECTURE AND FASHION. VISIT JOUG. TO SEE THE ENTIRE CAMPAIGN.
This project was my FINAL WORK of the third semester in design and textile technologies at THE FACULTY FOR DIGITAL MEDIA & CREATIVE INDUSTRIES, AMSTERDAM (September 2022 - January 2023).